Create a sustainable process structure for software development projects
Are you tired of managing complex software development projects that are hard to keep on track? Do you struggle with identifying the right team members, aligning them to your company and IT strategies, and managing technical debt?
We know how difficult it can be, and that's why we created a free checklist that captures the essential questions leaders of software development teams need to consider when creating a process structure that is sustainable in the long term.
With this checklist, you'll learn how to:
Identify key team members and their roles in the overall company and IT strategies.
Consider important factors such as team structure, workflow, agreements and deadlines for a sustainable process structure.
Prioritize and manage technical debt effectively for better product quality and user satisfaction.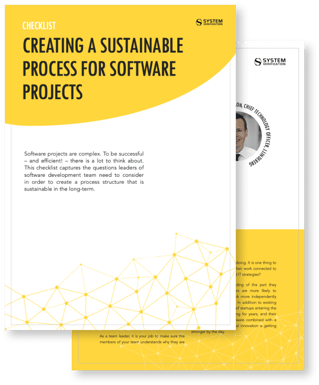 Our checklist is easy to use and includes practical, hands-on questions that you can use for guidance. Download it today and get the insights you need to optimize your software development process to achieve better results.
Download your free checklist and identify the key factors to consider